Status Update
on
March 3, 2014
at
12:01 am
I want to start off with big huge massive ginormous well-deserved and heartfelt thank you! Thank you to everyone who donated and supported me throughout this experience. "Flabbergasted" isn't a word I use that often, but it is one I used to describe myself as the donations began rolling in. It feels like I can never say it enough; thank you!
Now for the update:
Sorry it has taken me a while to post any updates. We (my sister and I, also her children) moved out of the apartment and into a new house. It took us almost two weeks to move everything and clean the apartment. (The ice storms slowed us down for a few days.) Though this move is a permanent one for my sister, I will be moving again in the beginning of June, this time out of South Carolina and back to West Virginia. Even with the big move finished, there's been endless amounts of unpacking, organizing, hanging curtains, and the typical settling-in phase. Only near the end of this past week have I stolen some time to begin working on the comic. And wow… the Cintiq is like a breath of fresh air. My speed with inking and sketching have doubled, and the touch gestures–*swoons*–I love them! I love being able to zoom and rotate with my fingers. Feels like I have more control and I'm not hindered by keyboard shortcuts. Speaking of those shortcuts; I still find myself using them from time to time. It's a habit I've been trying to stop. Once I get used to all the keys and gestures on the Cintiq, I'm sure I'll stop using the keyboard altogether. Oh, and we now have the internet at the house!
The unboxing image up top was taken at the apartment. The desk I had there was getting old, and I knew I wasn't taking it to the new house. Back in December, I bought a new desk with the new house in mind. And here it is, minus the hutch part. I'll add that when I get to WV. It's a simple desk, and much smaller than the previous one.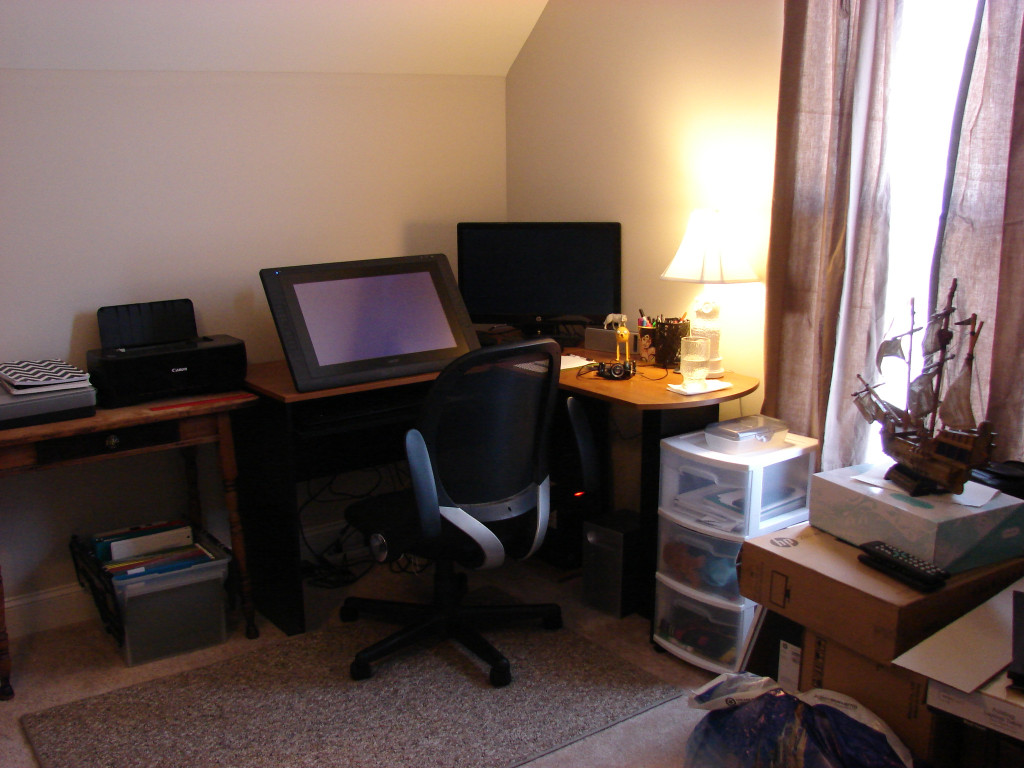 The second monitor is an HP 2311xi 23″ IPS LED Backlit Monitor.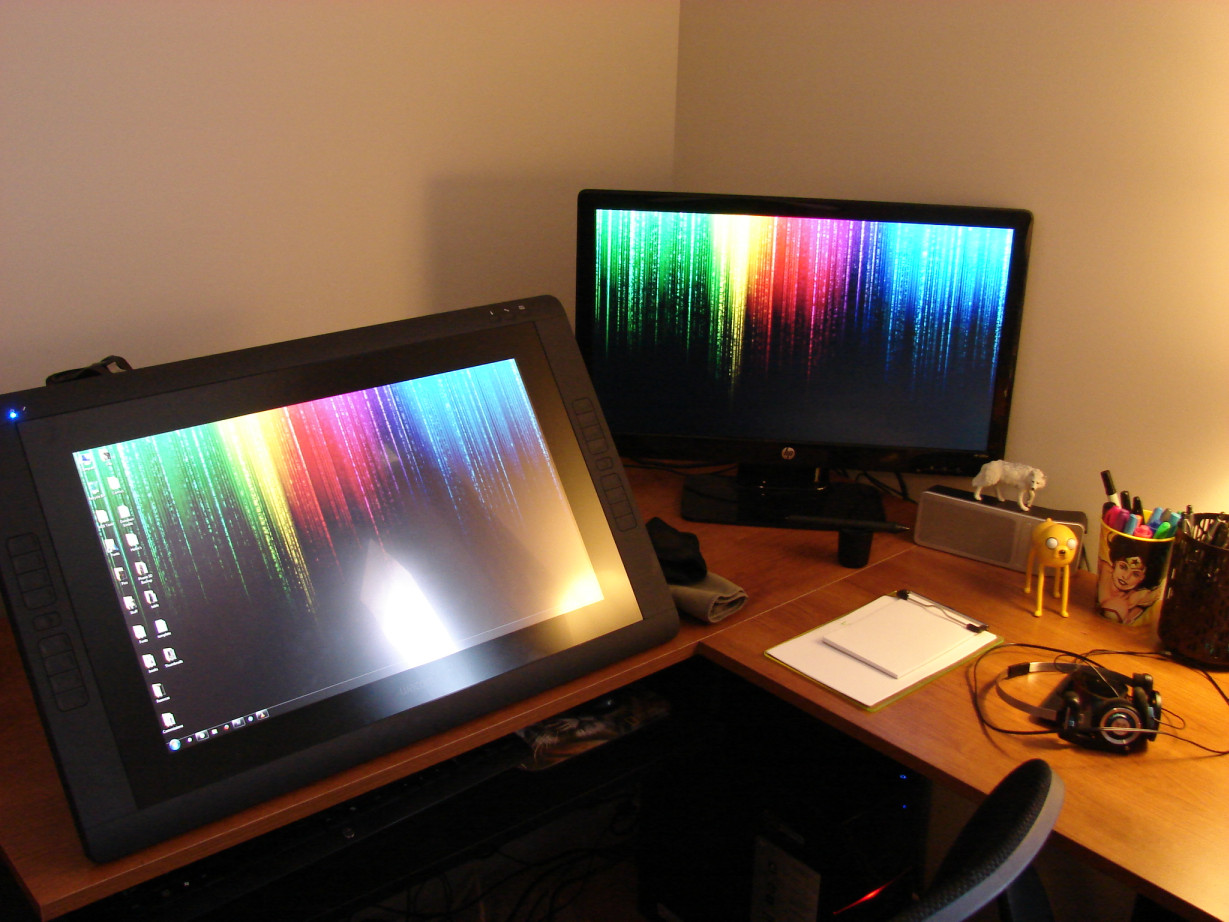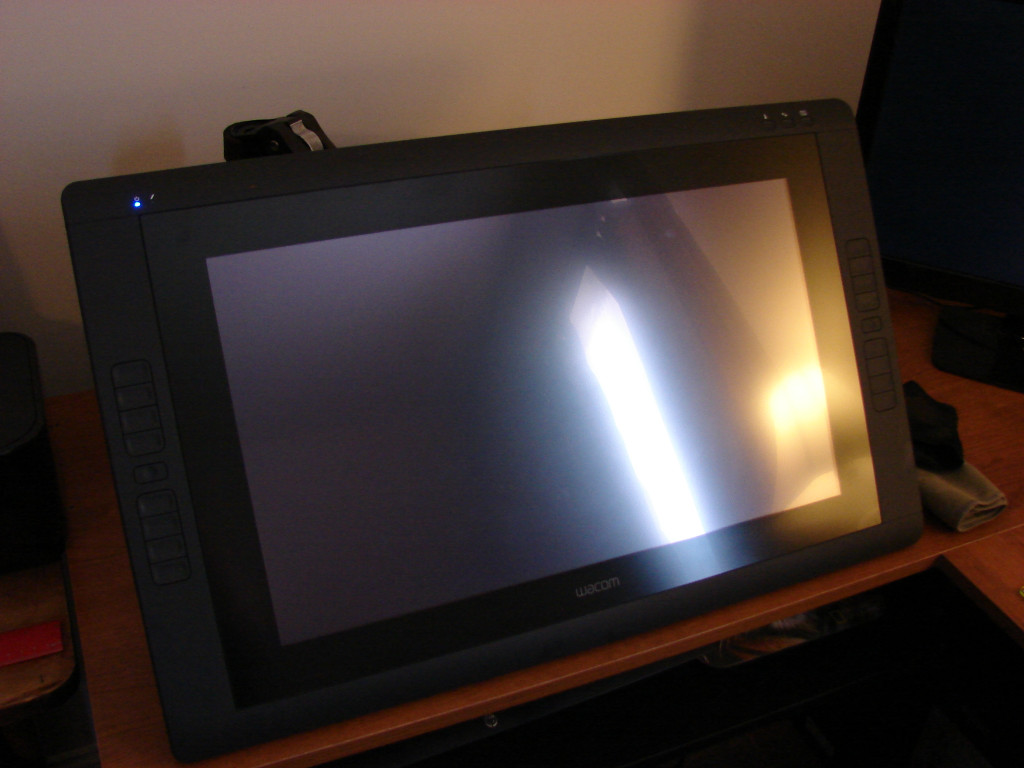 Here's a glimpse of the monitor arm. (It's the rebranded Ergotron one.)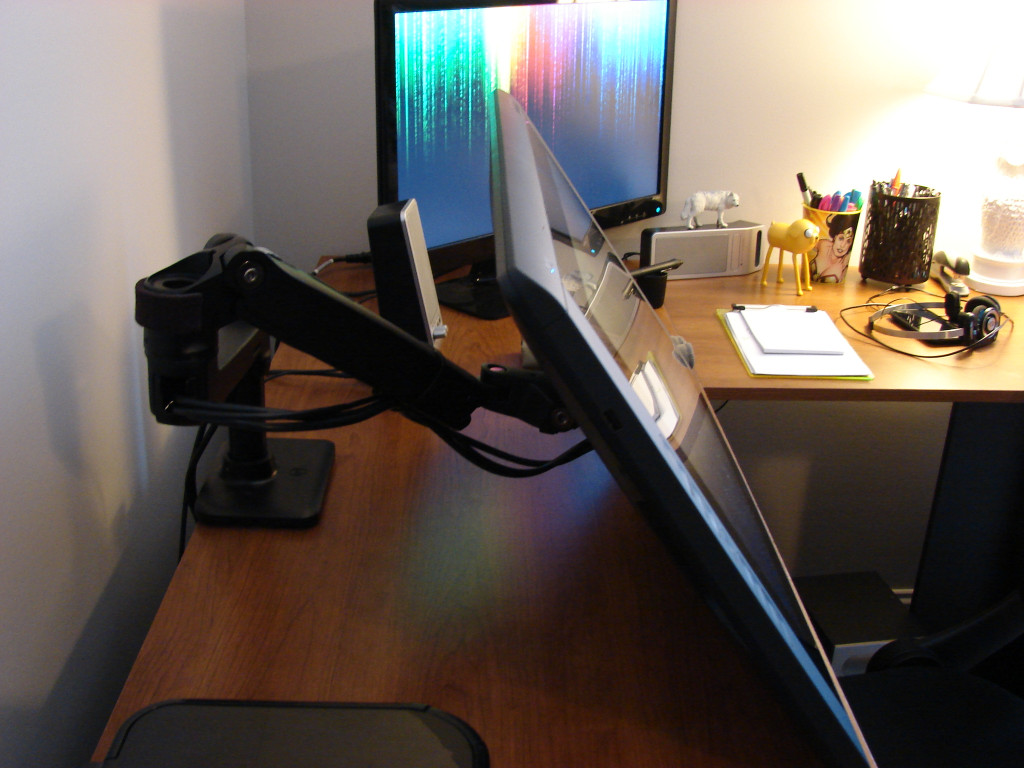 Now that I'm slipping back into a routine, I've been figuring out the best time to restart the updates. My initial plan was to start back on March 1st, but with the move-from-hell disrupting everything, I'm going to allow myself the month of March to build up a buffer, with April 1st being the official date. *fingers crossed*
I've been asked by several individuals to join Patreon. While I have been researching the best way to do this, I feel as though I won't have the time to mess with rewards. But once I move to WV, I plan to take a look at Patreon again.
*marks the calender* April 1st! Hell or high water, that's the return date. *nod-nod*